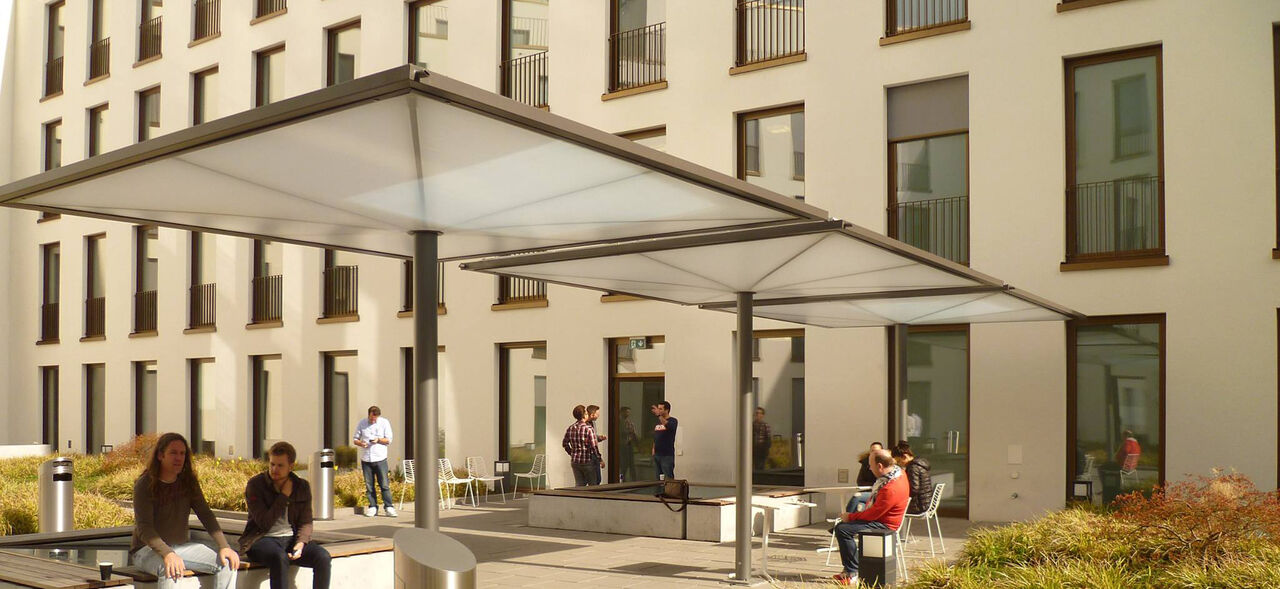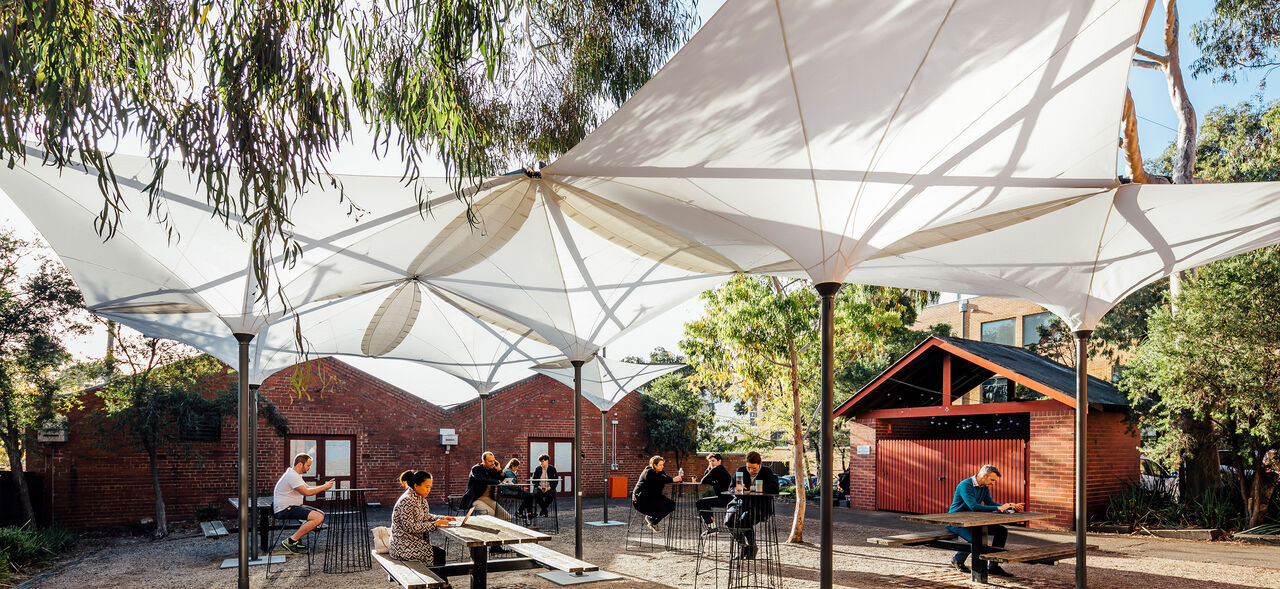 Our design parasols create not only shade, but also add value to outdoor life
Our design parasols combine stability and functionality with a unique product design. Whether you are planning a public area, terrace or individually designed open space - we have the right parasol for your need. With our product portfolio we offer you a selection of storm-safe, functional or design parasols. None of the solutions is suitable for your project? No problem! Just get in touch with us. As a German manufacturer, we always have the possibility to adapt our products to your ideas.
Individual and high-quality sunshades for architects
In some outdoor areas and for some occasions, weather protection solutions other than classic sunshades are required. This is where our architectural sunshades come in, setting completely new standards in terms of design, shape, size and protective function.
Architectural shading solution for more quality of life outdoors
Thanks to our close cooperation with architects and designers, we have already implemented numerous international projects in public, commercial or private spaces, for example, providing public spaces with individual shading solutions. Our architectural sunshades can come in a wide variety of shapes and sizes and can be perfectly adapted to outdoor spaces.
In this way, marketplaces, parks or event grounds can be given customized shade structures that blend seamlessly into the overall picture and offer visitors and guests real added value that goes beyond mere sun protection and an attractive design.
Architectural sun protection with added value
The dimensions, materials, colors and also the handling can thus be optimally matched to the respective environment and, depending on the use, also supplemented by functional extras. After all, the architectural shading solution should not only keep out the sun and rain, but ideally also fulfill other tasks.
Models such as our double membrane umbrellas or tulip umbrellas, for example, can be upgraded to collect rainwater, drain it off, and even store it in tanks as needed. Matching LED lighting integrated into the umbrella, radiant heaters or solar panels can also be integrated into our architectural sunshades, depending on the model.
In addition, we can either combine the various sunshades from our existing range to create large-scale shade solutions, create individual lounges or develop completely new shade architectures right away. There are not only permanently anchored, long-lasting solutions, but also mobile sunshade structures that can be set up and taken down quickly and easily - for example, for temporary events and functions in public places.
Parasols for architects
In addition, our sunshades for architects themselves can also be a high-quality figurehead for their own company location or be used to realize their own projects.
After all, we have made an international name for ourselves for more than 20 years, above all through our individual solutions. In addition to our fixed assortment, from which the most diverse combinations can be achieved, we offer very special sunshades for architects in cooperation with designers and architects, which, in addition to their reliable functionality, are always a unique eye-catcher.
And if you want to represent your own architectural office and the associated outdoor areas appropriately, you should set the same high standards for the sunshades as you do for the development of your corporate identity with business card, website and finally your own constructional projects.
Due to the versatile design possibilities regarding shape, color and spatial design of our sunshades, our shade structures can seamlessly integrate into the overall image of your buildings and outdoor areas. Our self-developed coverings also offer the possibility to create your own logo prints or color designs.
Developing unique shadow structures
With our in-house production at various locations, we can provide intensive advice, implement changes promptly and, above all, control every step of production. We are at your side every step of the way, from the first draft on paper to the final implementation.
Not only do we manufacture architectural sun shades in-house, but we have also spent many years developing our own coverings and membranes. This expertise allows us to design shade structures and architectural sun shades in unique ways.
For example, our architectural sunshades can incorporate kinematic solutions with 3-point or 5-point joints, or even realize woven patterns or origami techniques. We are available to work with architectural firms in designers from concept to construction to help you create a custom architectural shading solution.