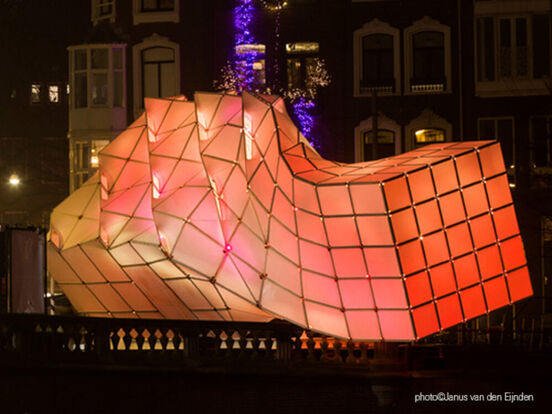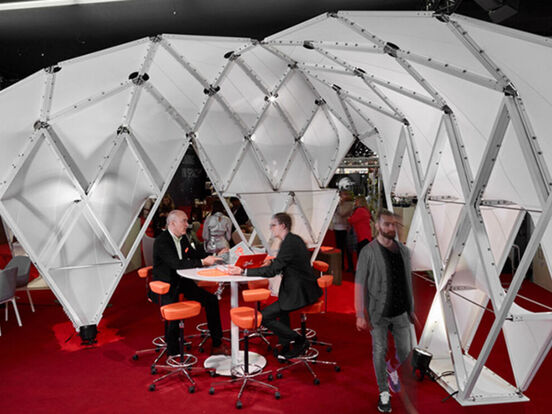 The Textile Facade Collaboration MDT-tex X UNSTUDIO
The collaboration between MDT and UNStudio found its beginnings during a 2013 workshop at UNStudio's Amsterdam offices. Markus Müller and his team took the oppor-tunity to dream up cutting edge applications of high-performance textiles, exchanging ideas on the ground. In the following years, this mutual dialogue continued in the context of further architectural projects.
Finally, 2015 marked the start of the formal collaboration between UNStudio and MDT-tex, leveraging MDT's expertise in textile systems to develop the "Cirrus System", a visionary new system for architectural façades based on high-performance textile materials. This jointly developed system sets new standards for aesthetics, functionality and flexibility in architecture.
The 2016 Amsterdam Light festival provided the perfect venue for an exploratory application of the "Cirrus System"with a commis-sion to design the temporary ticket pavilion. This structure yielded an "eye beacon", an ensemble of 2 and 3-Dimensional double curve tensioned surfaces
With more than ------ joints and struts, it far surpassed the usual size of a prototype. However, the efforts were quickly rewarded, immediately winning the team a Red Dot De-sign, Architizer and many other international awards.
And so it is no surprise that it was only a little later, in 2017, that another project followed. The Frankfurt exhibition's slogan for 2017 –"Living on the Moon"–made the choice of an architectural partner obvious: UNStudio and MDT designed the "Prototype II", a visionary structure based on multi-filament, PTFE, weaved in-house at MDT's plants. A final project launch date was set in 2017